Hull Connect 16-25
Hull Council - Care Leavers App
Back to all Case Studies
The Brief
Hull Council are a unitary authority in the East Riding of Yorkshire and were one of the first local authorities to work with us on their Care Leavers App, starting their journey in October 2019.


During the early days of Hull's Care Leavers App – Hull Connect 16-25, there was a focus on ensuring their young people had access to the local offer in a friendly and accessible way – using technology their young people use every day. Thinking about the way their young people wanted to access information, they opted to move away from their corporate website and towards an app.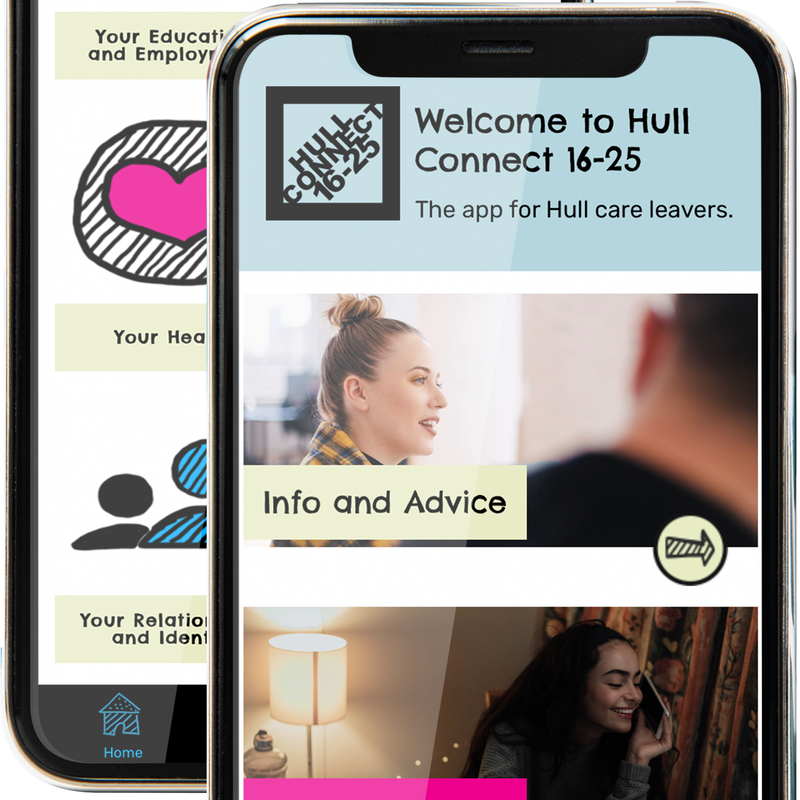 Our Approach
Their app quickly became more than just the local offer to include additional information such as 'Who Can Help' - providing services and support, events and an automated apprenticeship feed.


Hull Connect 16-25, is used not only by young people but also Hull's Personal Advisors, Social Workers and other professionals. With 'Stop the Clock Days' including time to promote the app and introduce any new staff to the app and how the app can help in their day-to-day work.


In recent years the app has developed further to include a 'Discounts and Offers' area ensuring young people have access to the discounts available to them such as council tax exemptions and broadband offers. Hull are currently working on more offers to inform and support their young people during the cost-of-living crisis – with the help of push notifications to keep their young people up to date.
The Results
With an initial focus on providing support for their 18+ young people through the app, they are developing the app to further support their 16–17 year olds by providing education and employment information on the app alongside in person industry visits.


As of January 2023, Hull have approximately 325 Care Leavers, and throughout 2022, Hull Connect 16-25 saw 150 app downloads, with popular sections including their local offer, money and finance, help to heat your home and discounts and offers.


Moving forward, Hull are looking to make their Care Leavers App more interactive for everyone involved.
"The app is a brilliant source of information for young people and also for anyone who supports young people, Social Workers, Personal Advisors, IROs, Carers, Support Workers everywhere"

Team Member - Hull Council
Item 1 of 2
Want results like these?
To arrange a demo or to find out more, get in touch with our friendly team today.