Bath and North East Somerset Early Help
Bath and North East Somerset Council - Early Help App
Back to all Case Studies
The Brief
In 2017, the strategic, multi-agency Early Help Board in B&NES identified an action to improve access to early help information for professionals. B&NES set up an Early Help Improving Access to Information Task and Finish Group, which identified a need for a signposting tool providing details of local early help services and other resources.
 
Following our previous work together and a survey with local practitioners B&NES decided to develop their Early Help App with focusgov. The Early Help App is used by professionals working with children, young people and families, increasing awareness of the range of support available and how to refer into services and ensuring that residents of B&NES receive the right help at the right time, by the right service.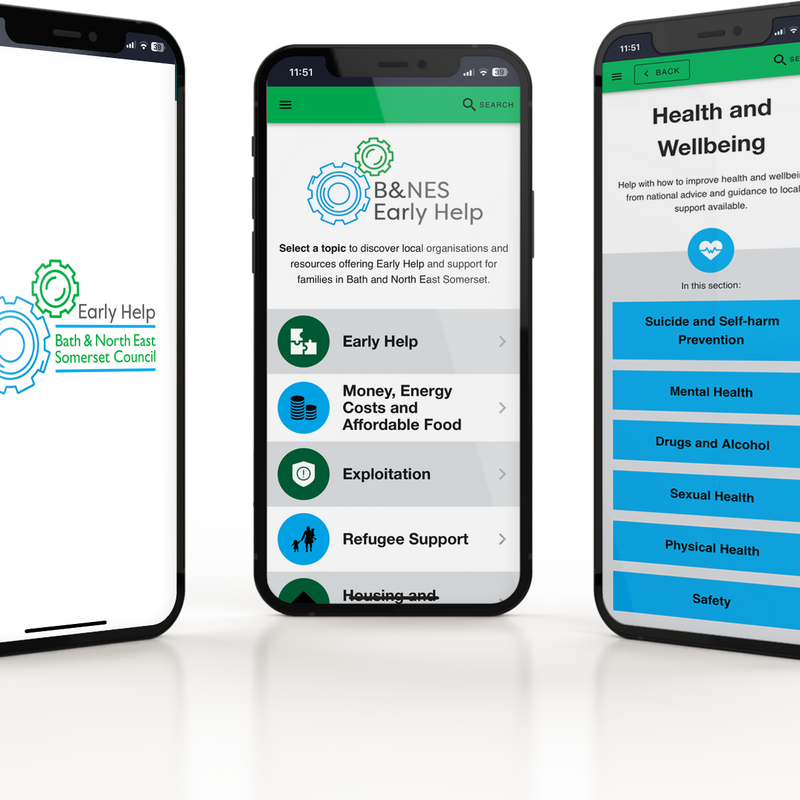 Our Approach
The organisation listings can be viewed without an internet connection, which is ideal if you have no Wi-Fi or have run out of mobile data and ensuring the app is accessible to all.


In 2020, the Early Help App was rebuilt to include surveys, host documents that had previously been hosted on the B&NES website and to improve Web Content Accessibility Guidelines (WCAG) accessibility and user experience.
 
When the app launched, initial feedback from professionals was that they "valued having all the information about early help services, referrals and signposting in one place – even when out and about with sometimes with limited internet access.


B&NES Council would recommend that other local authorities engage with focusgov about the Early Help App as "it has been a valuable tool for us." and "Statistics show that we still have a good number of new users to the App each month and a recent wide-ranging survey on usage of the App showed that it is considered a useful tool." 
The Results
Professionals can access a wide range of different categories, such as money, energy costs and affordable food and housing and homelessness. All include signposting information, documents and resources to support you in Early Help and Early Intervention.


Over the last year (2022) B&NES Early Help App has seen increases in engagement and usage. 
New Users – 119% 
Total Sessions – 135% 
Page Views – 156% 
The B&NES Early Help App is available from the Apple App Store and Google Play Store.
"I use it for signposting and information gathering. With some local authorities, information isn't easy to navigate, but B&NES has worked brilliantly here" –

Bathand North East Somerset - Early Help Professional
Item 1 of 2
Want results like these?
To arrange a demo or to find out more, get in touch with our friendly team today.